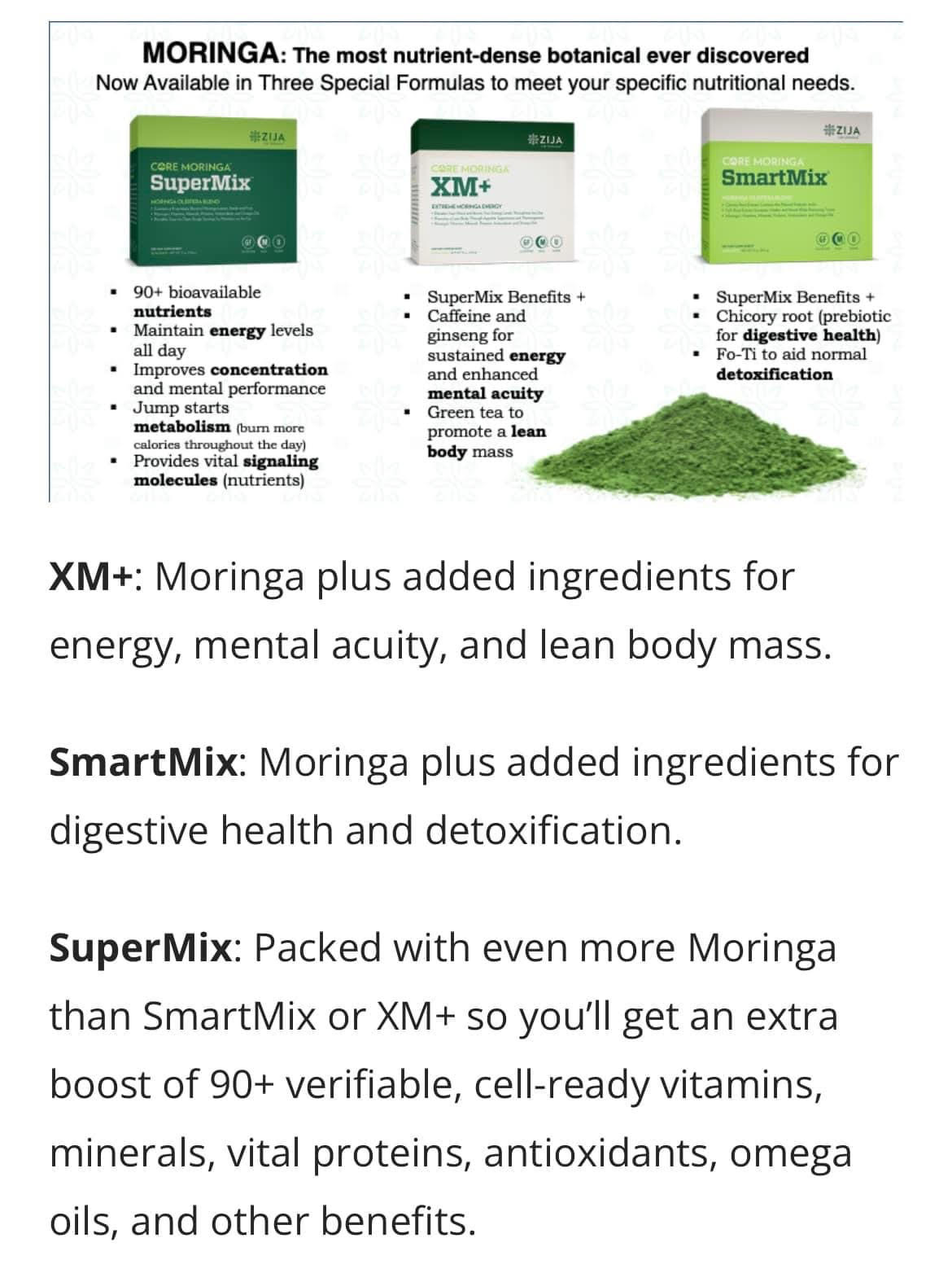 Everything You Need to Know About XM+
XM+ Energy Mix combines the abundant nutrition of Moringa oleifera with ingredients that provide natural energy and performance and boost your energy levels.
Contains key ingredients that boost metabolism
Increases metabolic energy
Contains natural caffeine found in many plants, leaves, beans, and fruits
Delivers energy that is fast-acting and long-lasting
XM+® blends the abundant nutrition of moringa with naturally sourced caffeine and botanical ingredients to deliver fast-acting and long-lasting energy. It's an ideal way to start your day and perfect anytime you need an energy boost. 
Nutrition and Energy Combined  
The way you nourish your body has a lot to do with how much energy you have during the day. Without a doubt, caffeine can help give you a boost when you need it, but a healthful, balanced diet packed with nutrient-dense plant foods is an essential foundation for all-day energy.  
XM+ combines the superfood nutrition of moringa with caffeine from green tea and coffee and other energizing botanical ingredients for a natural energy boost.  A pinch of sweetness from cane sugar and stevia and natural tropical fruit flavor with notes of pineapple and mango create a drink mix that is both refreshingly delicious and powerful enough to spark inspiration on any day. 
The Best Ingredients from Nature 
XM+ is an energizing option to enjoy on both Shake Days and Cleanse Days. It provides 155 milligrams of naturally sourced caffeine per serving, or about as much as a 12-ounce mug of coffee. Its plant-based ingredients are gluten-free and suitable for vegetarians and vegans alike.  
Moringa (

Moringa oleifera

) leaf, seed, and fruit powder:

 Often referred to as the "miracle tree," 

moringa

 is a fast-growing, deciduous tree that has been used for thousands of years for its superfood nutrition and benefits. Including the most nutritious parts of the moringa tree, this blend of leaves, seeds, and fruit offers the complete benefits of moringa.

 

Green tea leaf powder:

 This ingredient provides a natural source of caffeine along with polyphenol phytonutrients that boost metabolism, spark energy, and improve mental performance (1, 2).

Caffeine:

 Naturally sourced from green tea leaves and coffee beans, caffeine supports mental focus and concentration while temporarily promoting alertness, wakefulness, and enhanced cognitive performance (3,4).

American Ginseng:

 A root native to North America, ginseng is used across the globe for its physically energizing effects and benefits for overall well-being (5).

Garlic:

 The use of this flavorful bulb dates back to ancient times when Greek Olympians and Egyptians consumed it to boost their endurance and productivity (6).

 
Packaged in convenient single-serving packets, XM+ is the ultimate in body-nourishing energy, blending moringa with naturally sourced caffeine, green tea, American ginseng, and other botanical ingredients.  
References 
Hursel R, Viechtbauer W, Dulloo AG, et al. 

The effects of catechin rich teas and caffeine on energy expenditure and fat oxidation: a meta-analysis. 

Obes Rev

. 2011 12:e573-81.

 

Dietz C, Dekker M. Effect of Green Tea Phytochemicals on Mood and Cognition. 

Curr Pharm Des

. 2017;23(19):2876-2905. 

 

Childs E, de Wit H. Subjective, behavioral, and physiological effects of acute caffeine in light, nondependent caffeine users. 

Psychopharmacology (Berl).

 2006 May;185(4):514-23.  

 

Backhouse SH, Biddle SJ, Bishop NC, et al. Caffeine ingestion, affect and perceived exertion during prolonged cycling. 

Appetite

. 2011 Aug;57(1):247-52.  

 

Arring NM, Millstine D, Marks LA, et al. Ginseng as a Treatment for Fatigue: A Systematic Review. 

J Altern Complement Med

. 2018 Jul;24(7):624-633. 

 

Rivlin RS. Historical perspective on the use of garlic. 

J Nutr

. 2001 Mar;131(3s):951S-4S.