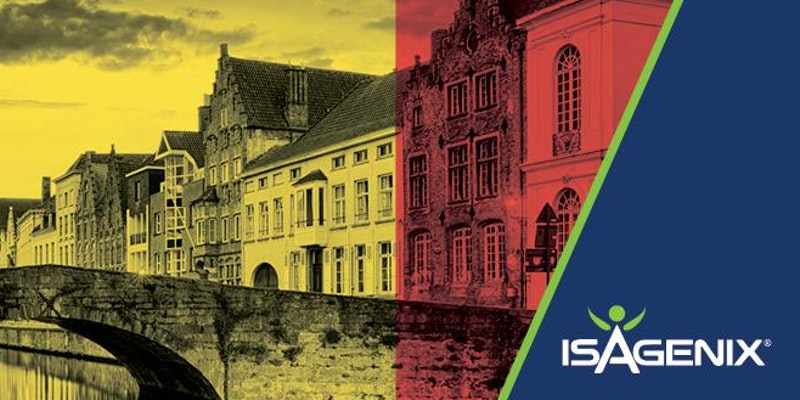 The Isagenix team are hitting the road in Belgium!
The Roadshows are your first opportunity to experience Isagenix, find out more about the launch in Belgium and meet the European team. We will be sharing information on the company, the opening of Isagenix in Belgium as well as how the Isagenix products and business can help transform your lifestyle.
Please note that space is limited at each venue so be sure to buy tickets soon to avoid disappointment.
De Roadshow is je eerste kans om met Isagenix kennis te maken,  kom meer te weten over de opening van Isagenix in België en maak kennis met ons Europese team. We zullen informatie delen over het bedrijf, de opening van Isagenix in België en natuurlijk over hoe de Isagenix producten en de zakelijke kans jou leven kunnen helpen transformeren.
Houd er rekening mee dat de ruimte op elke locatie beperkt is. Koop daarom snel je kaartjes om teleurstelling te voorkomen.
When and where are the roadshows taking place?/Wanneer vinden deze roadshows plaats?
So, what's next? Belgium and Spain, that's what!
We will be launching in Belgium first, with an anticipated launch date of April 23, followed by Spain (with an anticipated launch in June 2018). Like our other European markets, Belgium and Spain will both be managed from our European headquarters in London and will feature the same great products and promotions, in addition to our Isagenix Team Compensation Plan. Check out the Leadership Packets for Belgium and Spain for complete launch details!
How You Can Get Involved
As we approach the launch dates of both markets, now is a good time to begin reaching out to your friends or family members in these markets who may be interested in Isagenix to gauge their interest. We ask that you use appropriate messaging so as not to confuse or mislead those who may be interested. As a reminder:
Don't hand out marketing materials from any other market, and don't create your own.
Don't purchase products and ship them to your contacts in these markets.
Don't sell products to your contacts in these markets.
Don't solicit contact information from people in these markets.
For a list of do's and don'ts and more information on how you can begin sharing this exciting news compliantly, review the Leadership Packets for Belgium and Spain.
In addition, be sure to purchase an International Sponsorship if you haven't already! An International Sponsorship allows you to earn business volume for sales outside your home country. An International Sponsorship is a great way to expand your business globally when you share Isagenix in international regions.
Finally, if you know someone in either of these markets who may be interested in learning more about Isagenix, we have an exciting schedule of roadshows just for them! For further event information and ticket details, visit EU.IsagenixEvents.com.
Stay tuned to EU.IsaFYI.com for further updates!