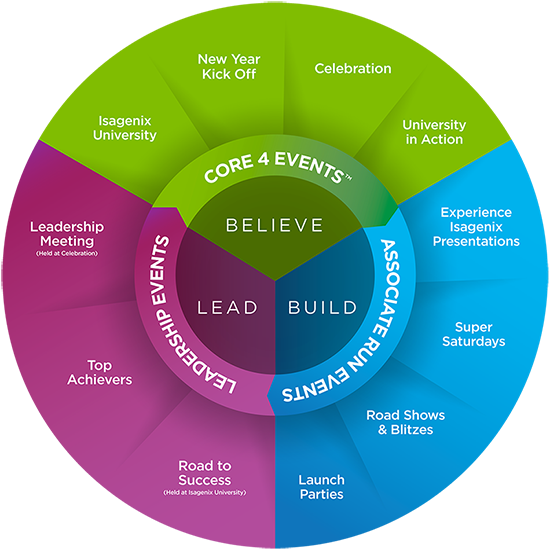 Gain the education, experience, and belief you need to become a powerful, professional network marketer. Events provide you with the tools, training, and resources to help you achieve your goals and become a successful leader. Attend events throughout the year to continue your leadership development.
Isagenix University
Isagenix University (IsaU) is your opportunity to experience the culture of Isagenix in a city near you. Learn about our no-compromise products, develop skills as a professional network marketer, and acquire industry-leading business building strategies.
Top leaders and corporate trainers encourage, inspire, and motivate you to reach your goals. Learn how to earn residual income and unlock the potential behind one of the fastest-growing business opportunities in North America.
CANADA CELEBRATION| APRIL 4-6 | OTTAWA, ONTARIO
GLOBAL CELEBRATION | AUGUST 10-14| NASHVILLE, TN
Celebration
AUGUST 10-14, 2019 |  NASHVILLE, TENNESSEE
APRIL 4-6, 2019 | OTTAWA, ONTARIO
Celebrate, learn, and experience Isagenix at our annual flagship event. Celebration is a can't-miss experience packed with product releases, training, Science Talks, leadership meetings, parties, and so much more.
Immerse yourself in Isagenix culture, celebrate success, build your 90-Day Game Plan, and ignite the motivation to achieve your goals and build your business. Learn from top leaders, experience new products and promotions, and propel your business to incredible new heights. Build your belief, your team, and your business at Celebration!