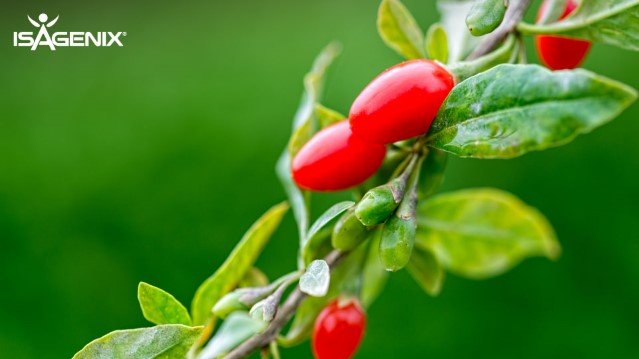 Ingredient Spotlight: Wolfberry
May 4th, 2018|Health
Although first described 2,000 years ago, the use of wolfberry in Traditional Chinese Medicine (TCM) formulas was revived at the end of the Empire of the Great Ming (1368–1644). The benefits of wolfberry to modulate stress and support faster post-exercise recovery have been confirmed by modern science, with water-soluble polysaccharides (LBPs) and other antioxidants in the fruit also managing free radicals to support healthy aging (1, 2, 3).
But what is wolfberry and goji berry, and why are there several species reported in the literature? "Wolfberry" and "goji berry" are synonyms (2). The plant genus Lycium, to which wolfberry belongs, has about 80 species distributed in Asia, South America, and southern Africa. Of seven species growing in China, the two species that are most commonly used interchangeably in TCM are L. barbarum and L. chinense, also known as gou qi or kei tze (2). L. barbarum has been the best studied.
The wolfberry fruit has been used in China for more than 2,000 years, and recorded in the Shen Nong Ben Cao Jing, the Divine Farmer's Classic of Materia Medica, compiled in the first century CE (2, 3, 4). Wolfberry is one of the top 120 herbs in that book, believed to have remarkable health benefits and safety for strengthening the body, keeping it fit, prolonging life, and easing life through all the seasons (1, 2, 3, 4). Its reputation has extended to other traditional medicines in Asia, Taiwan, Japan, and Korea, where wolfberry is used for general debility (1, 2). Additional indications listed in authoritative books include supporting blood sugar control and visual health (1, 2).
Dried wolfberry fruit used in products has alkaloids, chlorogenic acid, carotenoids, amino acids, terpenes, vitamins, and polysaccharides. Some studies suggest the polysaccharides, extracted with hot water, are the main bioactive constituents (2, 3, 4). LBPs support general antioxidative effects and maintenance of blood sugar and lipid levels. For vision health, the carotenoid zeaxanthin is also required (1, 2). Human clinical trials focused on the effects of wolfberry and its polysaccharides on blood sugar and lipid levels, immune health, antioxidant effects, vision, weight management, general well-being, and as a tonic for fatigue and stress (2, 5, 6, 7, 8).
Positive Health Benefits of Wolfberry Polysaccharides
A prospective, randomized, double-blind controlled study of 67 individuals examined the effects of wolfberry polysaccharides on postprandial glucose and lipid levels. People were given either 300 mg of polysaccharides or placebo (2, 5). The group taking the polysaccharides experienced improved blood sugar and lipid support after intervention, compared to baseline (2, 5).
Several clinical studies demonstrated the positive effects of a daily serving of a L. barbarum supplement standardized to supply a polysaccharide equivalent of at least 150 g of fresh fruit on general health (6), as an immune modulator (7), on modulating antioxidant defenses (8), caloric expenditure, reducing fatigue after exercise (10), and, on weight control decreasing waist circumference in healthy overweight men and women (9). A tendency toward improved short-term memory and focus was found on older adults (55-72 years old). The study also confirmed that those who consumed wolfberry had supporting mental health and immunity benefits (6).
The study also demonstrated antioxidant effects through increases of antioxidant enzymes superoxide dismutase (SOD) and glutathione peroxidase (GSH-Px) along with a reduction of markers of oxidative stress. These results suggest wolfberry protects against free radicals contributing to cardiovascular and brain health (2).
Wolfberry extracts, packed with polysaccharides, have also demonstrated they can increase thermogenesis, postprandial energy expenditure, and have positive effects on waist circumference and other weight assessment such as BMI, and total body fat (2, 9). Wolfberry showed benefits reducing fatigue and improving exercise performance, by increasing significantly VO2 max, a measure of the maximum volume of oxygen that an athlete can use (10). A study also suggests the consumption of wolfberry may provide adaptability to physical stressors (such as exercise) (2, 10).
The Safety of Wolfberry
No side effects have been reported in monographs and clinical trials at the amounts of wolfberry usually recommended (1, 6, 7, 8, 9, 10). The amount of wolfberry used in Isagenix products is within those reported in the literature, and therefore can be safely consumed.
Isagenix Ionix Supreme has the Power of Wolfberry
Isagenix offers Ionix® Supreme with the health benefits of water-soluble polysaccharides from wolfberry fruit. The number of polysaccharides in a serving of Ionix Supreme is within those reported in the literature, and therefore can be safely consumed. Ionix Supreme is individually adjusted, starting with half to one teaspoon a day based on what works best for you.
The Isagenix no-compromise quality standards include the use of carefully sourced raw materials that undergo stringent analytical testing procedures to detect the presence of contaminants such as pesticides, heavy metals, and microbes. Isagenix wolfberry fruit extract is made using a hot water extraction process, which replicates the traditional hot water brew preparation of traditional Asian medicines used for centuries around the world.
References
Gruenwald J, Brendler T, and Jaenicke C. PDR for Herbal Medicines. Medical Economics Company, Inc. 2000. Montvale, NY.
Engels G, Brinckmann J, Lycium (Goji Berry) Lycium barbarum and L. chinense Family: Solanaceae HerbalGram. 2017, 113: 8-18.
Bucheli P, Gao Q, Redgwell R. Vidal K. Wang J. and Zhang W. Biomolecular and Clinical Aspects of Chinese Wolfberry In: Herbal Medicine: Biomolecular and Clinical Aspects. 2nd edition, Benzie IFF, Wachtel-Galor S, editors. CRC Press/Taylor & Francis, Boca Raton, 2011.
Khan IA, Abourashed EA, Leung's Encyclopedia of Common Natural Ingredients Used in Food, Drugs and Cosmetics. Third edition, John Wiley & Sons, Inc., New York, 2010.
Cai H LF, Zuo P, Huang G, et al. Practical application of antidiabetic efficacy of Lycium barbarum polysaccharide in patients with type 2 diabetes. Med. Chem. 2015;11:383-390.
Amagase H, Nance DM. A randomized, double-blind, placebo-controlled, clinical study of the general effects of a standardized Lycium barbarum (goji) juice, GoChi. J Altern Complement Med. 2008;14(4):403-412.
Amagase H SB, Nance DM. Immunomodulatory effects of Lycium barbarum fruit juice in Chinese older healthy human subjects. J Med Food. 2009;12(5):1159-1165.
Amagase H, Sun B, Borek C. Lycium barbarum (goji) juice improves in vivo antioxidant biomarkers in serum of healthy adults. Nutr Res. 2009;29(1):19-25.
Amagase H, Nance DM. Lycium barbarum increases caloric expenditure and decreases waist circumference in healthy overweight men and women: pilot study. J Am Coll Nutr. 2011;30(5):304-309.
Amagase H, Nance DM. Lycium barbarum fruit (goji) attenuates the adrenal steroid response to an exercise challenge and the feeling of tiredness: a randomized, double-blind, placebo-controlled human clinical study. J. Food Res. 2012;1(2).
Cheng CY, Chung WY, Szeto YT, Benzie IFF. Fasting plasma zeaxanthin response to Fructus barbarum L. (wolfberry; kei tze) in a food-based human supplementation trial. Brit. J. Nutrit.. 2007;93(01):123.