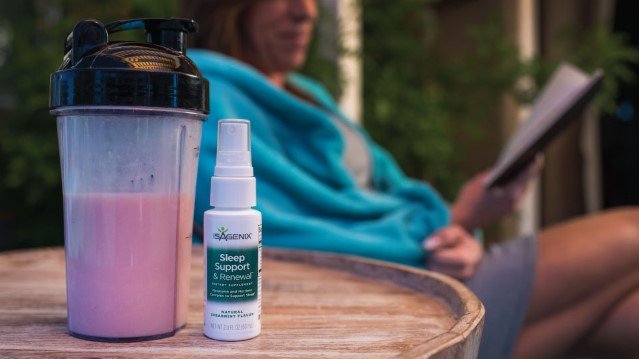 FAQ: Bedtime Belly Buster
Whether you're new to Isagenix or a longtime product user, chances are you've heard about the Bedtime Belly Buster (BBB). The BBB is one of our most popular product combinations and can be a great tool to help you break through weight loss plateaus and achieve health and fitness goals.
With the launch of our new BBB bundle, we've had a lot of questions come in regarding how the BBB works. That's why we've compiled this FAQ, so you'll have the answers to your questions about the BBB all in one place!
What Is the Bedtime Belly Buster?
The BBB combines high-quality protein and Isagenix Fruits or Greens to make a "night cap" at the end of your day. Simply blend or mix the core components listed below with any of the optional products you choose and enjoy this satisfying, high-protein treat! The BBB is best when enjoyed 30-60 minutes prior to bed.
The BBB Core Components:
The following complementary products are also commonly taken with the BBB.
BBB Optional Products:
Together, these BBB components are designed to satisfy late-night cravings while helping you get your rest. This, in turn, can help keep you on track to release stubborn belly fat. For more information on how the BBB works to help support your goals, read this article.
If I had a late dinner, should I still do the BBB?
For optimum absorption and utilization of the high-quality whey protein that IsaPro provides, it is best to consume the BBB an hour or two after your last meal. If you enjoyed a late meal rich in protein and this timeline does not fit your schedule, then it may be best to skip your BBB on this occasion. On a Shake Day when you have consumed more calories than planned, it may be best to skip the BBB on these nights as well (if you're new to Shake Days, see this video here).
Can the BBB be done on a Cleanse Day?
Isagenix does not recommend incorporating the BBB into your Cleanse Day. Remember, a Cleanse Day is based on the science of intermittent fasting. The goal of a Cleanse Day is to consume as little as possible within your own personal limits while receiving nutritional support from Cleanse for Life® and a few select Isagenix products. The BBB would unnecessarily increase your calorie intake and not support the goal of your Cleanse Day. It is best to save your BBB for Shake Days.
Does the BBB replace a meal?
The star product of the BBB is IsaPro – a high-quality whey protein supplement. IsaPro is not a complete meal replacement like IsaLean™ Shake and IsaLean PRO Shake. For this reason, the BBB is not considered a meal and should not be used as a meal replacement. The BBB is simply a nightly addition to your routine and is designed to support your overall weight wellness goals.
Who should do the Bedtime Belly Buster?
Anyone who has hit a weight loss plateau or who is struggling with late-night snacking can benefit from the BBB. When used in conjunction with the Isagenix Weight Wellness System, the BBB can help you stay on track with your weight wellness goals.
Athletes, or those who are working to tone up and build muscle, can also benefit from this late-night dose of whey protein before bed to support muscle recovery and growth. Athletes may even want to increase the BBB serving of IsaPro to two scoops for maximum results. For more information on how athletes can use the BBB, read this article.
Won't having the BBB right before bed cause weight gain?
Late-night snacking is often pointed to as a cause for weight gain. However, researchers point to the nutritional quality of a bedtime snack as the determining factor in its effect on your waistline. Consider that many people reach for less nutritious options like ice cream and chips to satisfy late-night cravings. Research has shown that consuming a low-calorie, high-protein snack 30-60 minutes before bed may increase metabolic rate and even decrease early morning hunger. For more information on this study, read this article.
How long should the BBB be used?
There is no limit on how long you can keep the BBB in your nightly routine. Supplementing with the targeted nutrition that the BBB provides prior to bedtime can be incorporated into any lifestyle geared toward health and wellness for as long as you desire.
How many scoops of IsaPro should be used?
The BBB was originally intended to help product users break through weight loss plateaus and get rid of those last few stubborn pounds clinging to the belly. With this goal in mind, the BBB was created with one scoop of IsaPro to provide 18 grams of quality protein at a calorie level that can easily fit within a weight loss system. However, for athletes and individuals who are working to build muscle, the research points to added benefit from around a 40-gram serving of whey protein, or two scoops of IsaPro prior to bedtime for added support for muscle protein synthesis and recovery from heavy workouts. You can customize the way you use the BBB to fit your goals by using one or two scoops of IsaPro.
Do I have to include Fruits or Greens in my BBB routine?
While Isagenix Fruits and Greens are part of the core components of the BBB due to their great taste and phytonutrient content, you can always substitute Ionix® Supreme, a sprinkle of AMPED Hydrate, or even additional IsaPro instead. As long as the high-quality protein is consumed 30-60 minutes before bed, the BBB can still be effective in supporting goals.
Connect with Laura below...